View Coupons & Offers
Another great feature of DineInOut is the ability to view restaurant coupons and offers on our website and via RSS feeds. DineInOut website coupons and RSS feeds are available to you free of charge. You do not have to register, signup or become a member like what is required on other sites.
Coupons in your Web Browser
The DineInOut website allows you view restaurant coupons by city in your web browser. To view restaurant coupons, navigate to the city of interest and click the link labeled "Coupons / Offers".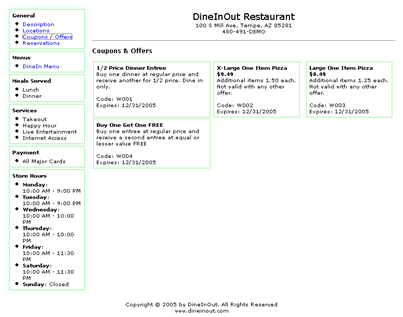 Coupons via RSS
RSS (Really Simple Syndication) is a popular way to gather news and information from across the Web. DineInOut publishes RSS feeds of restaurant coupons by city. DineInOut provides several easy ways to subscribe to our RSS Coupon Feeds:
Add DineInOut Coupon Feeds to your RSS Reader / Aggregator by clicking the image on the coupon page.
Add DineInOut Coupon Feeds to your My Yahoo! portal by clicking the image on the coupon page
Add DineInOut Coupon Feeds to your MSN portal by clicking the image on the coupon page
What are the benefits of using an RSS Newsreader?
There are many benefits to accessing information this way:
Efficiency: timely news and information is automatically there when you need it;
Breadth: headlines from the web sources you care about are consolidated;
Organization: sources can be displayed in order of importance with the latest news on top;
Productivity: email newsletter subscriptions and unruly bookmarks can lead to clutter and information overload.
Ultimately, you save time while consuming more information. Instead of browsing multiple sites to find information of interest, information is delivered directly to your reader and consolidated in a way that's easy to browse. When a topic interests you, just click and go directly to the source.